Fellow Commodores:
As I assume my new position as Grand Commodore, I look forward to working with you to ensure that the Association of Ohio Commodores fully measures up to…and even exceeds…the goals and aspirations that were envisioned by Governor Jim Rhodes' way back in 1966. Through the civic engagement of this association, may we endeavor to make Ohio the most pro-business state in the nation.
In the weeks and months ahead, I especially look forward to working with Governor Mike DeWine, Lt Governor Jon Husted, everybody at Jobs Ohio and the Ohio Department of Development in advancing economic development initiatives through our Commodores network, now in all 88 counties of Ohio.
Let us all resolve to be that elite corps of ambassadors who work with Governor DeWine to help make Ohio a welcoming place within which to invest in new businesses and community projects for the lasting benefit of all of the citizens of this great state.
Best wishes,
David W. Johnson
Grand Commodore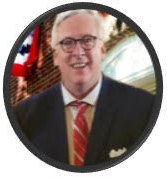 Our mission is to assist the State of Ohio in its advancement in all areas contributing to the economic growth and development of the State, and the greater prosperity of its citizens.
The Commodores Captains Award is presented to those who have contributed to the organization above and beyond the expected participation.

The James A. Rhodes Service award is given to individuals whose services to Ohio have "followed in the footsteps of Governor Rhodes". James Rhodes was an American Republican politician from Ohio that served four full terms in office.


The Elite Corps are individuals who have brought honor and dignity to themselves and their home state of Ohio.